Your kids will learn how to sew using a sewing machine and hand sewing, how to measure and cut fabric properly, and ultimately MAKE amazing fun pillows, clothes, accessories and plushies. To give the day a bit of variety we will occasionally take breaks from sewing and do fun fashion projects such as collage fashion illustrations and Mood boards. depending on which week your child signs up for they will learn other great craft skills such as embroidery, macramé, and textiles.
We encourage individual thinking and creativity by letting our students have the freedom to create what they want as long as they work within certain design parameters. We do not repeat projects so your child is welcome to sign up for multiple weeks.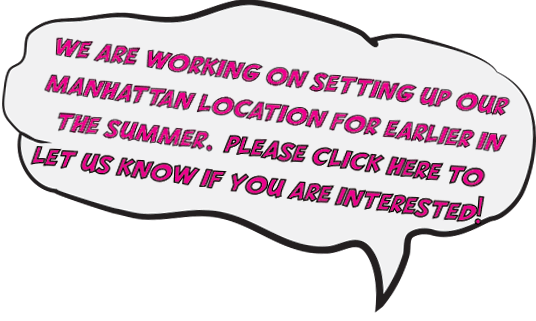 PARK SLOPE LOCATION
182 8th Ave (Between Garfield
and 1st Streets)
Ages 9 - 12
$620-per week, 9:00 am-5:00 pm
WEEK 1-AUG 19-23
WEEK 2-AUG 26-30
We offer a 10% Sibling Discount
Promo Code "Twice as good"
BOOK 2 Weeks and get 10% off
Promo Code "Double Mint"
​
​
​
​
PARK SLOPE CAMP SCHEDULE
9:00-9: 15-Drop off

9:15-Start the day with a fun warm up drawing that we then post up and have a a little chat about.

Talk about our day plan.

Either start a new project or finish yesterdays

10:30 Break for 15-minute snack and a quick game. Standard snacks (a choice between chips, pretzels, and granola bars and juice) are included, however if your child has any allergies and has any special needs please provide them with their own snack.

11:00 continue project

12:30-2 pm break for lunch-We do not provide lunch. Please make sure your child comes with a packed lunch and a sufficient amount of water for the day.

If the weather permits we will walk over to the Park or 3rd St play ground. After the children eat, we will alternate between free play in the play ground and organized games that we rotate daily (their choice). If the forecast has a particularly hot day in store we can plan ahead for the kids to bring their bathing suits and either play in the fountain or play water balloon games

After lunch we will start a new project

3:30 - 10 Minute dance break.

5:00 (please try and arrange to have your child picked up no later then 5:10, if you are going to be later you can always call to have them stay for the late pick up extension for an additional charge.)

5:10 – 5:45 pm late pick up for an additional charge of $15 ​
​
​
WE TAKE OUR POLICIES AND WAIVER VERY SERIOUSLY. PLEASE CLICK HERE TO REVIEW THEM